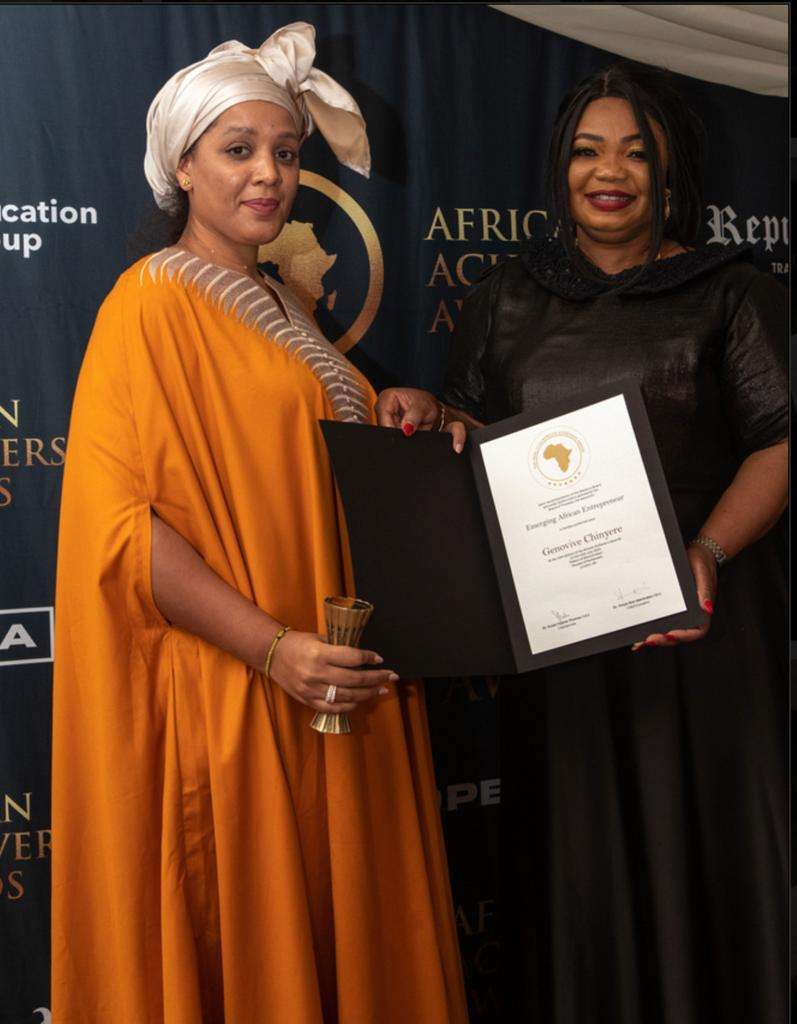 The Seasoned Entrepreneur and Social Development Advocate Jenovive Chinyere Chief Executive of Dream West Africa has been awarded Emerging African Entrepreneur at the 13th African Achievers' Awards held at the Palace of Westminister, House of Lords, London, United Kingdom.
Jenovive is advocacy champion for Capacity Development in Young Women and Girls for the understanding of entrepreneurship and opportunities available for their growth in various fields of endeavor. Her effort in development impact runs actively through several countries of the ECOWAS subregion, the African Continent and the diaspora.
She is a British-Nigerian Corporate Resource Development Professional, Marketing Personnel and Business Consultant who has gathered experience consulting for multiple firms in the Oil and Gas, Media and Communications, Agricultural, Mining, Construction and Hospitality sectors, where she helps business and industries achieve outstanding growth and development, while branding them for corporate visibility and increased marketing value.
Jenovive's Dream West Africa is broken down into the real estate sector and the consulting sector. Her work in the real estate sector has expanded working relationships with over 100 internationally known companies over the past 10 years.
Through her Dream West Africa Foundation, she has been able to focus Corporate Social Responsibility efforts adequately. Jenovive's dedication to her work got her listed a recipient of the prestigious "Top 100 Most Influential Young Africans" Award in 2022.
Her demonstrated ability to break boundaries and make global impact and her commitment to service and humanity has endeared her to recognition for the Emerging African Entrepreneur of the year 2023 by the African Achievers' Awards at the Palace of Westminster, UK House of Lords.
The event, themed "Unlocking Sustainable Trade and Investment Opportunities in Africa – the PPP Approach" focused on the importance of addressing the challenges in Africa to work towards a prosperous, equitable, and sustainable future in the continent.
As with every edition of the Awards ceremony and summit, the AAA served as a platform for industry leaders and personalities of note in Africa and of African origin to converge, and talk strategies towards development sustainability in the African continent.
Some of the eminent award recipients at the convergence are: Owen Omogiafo, Transcorp Group CEO; Dr. Adeshola Cole, CEO Tritek Consulting Limited, UK; Tunji Akintokun, Boards and Councils of Grant Thornton TechUK, Teach First and The Aboretum London; Temi Ofong, Global Head of Customer Channels at HSBC; Dr. Workneh Gebeyehu, Executive Secretary at Inter-Governmental Authority on Development (IGAD); Ambassador Emmanuel C. Njoku, Chairman Emma Njoku Foundation; Georgia Akuwudike, Director of Operations with Amazon UK and Dr. Smelly Dube, Group CEO Rivervalley Group, Zimbabwe;
Some others include: Dr. Tom Ilube CBE, CEO of Crossword and Chair of the Rugby Football Union; Bayo Dosumu, Chief Executive at Lambeth Council; Peter Kolade Fashesin-Souza, Enterprise Technology Risk, Governance and Change Professional at the Bank of England; Kenneth Raydon Sharpe, CEO WestProp Holdings, Zimbabwe; Jenovive Chinyere, Chief Executive, Dream West Africa; Lady Josephine Nwanyinaya Nwaeze, MD/CEO, News Engineering Limited; Tessy Ojo CBE, CEO The Diana Awards; Omadevuae Iviemena Maria, MD/CEO Etionary Properties; Rt. Hon. Yusuf Ibrahim Zailani, Former Speaker, Kaduna House of Assembly and Tobi Akerele, CEO Gidi Real Estate Limited.
Speakers who joined Jenovive at the event include Dr. Yvonne Thompson CBE; Owen Omogiafo, Transcorp Group CEO/President; John Anderson, 3rd Viscount Waverly and Member of the House of Lords and Canon Otto, among others, with a special presentation by Titi Harsfall.
The Right Honorable, Lord Simon Woolley, is the host for this year's event. He is Member of the House of Lords, UK Parliament; Palace of Westminster. He is a British politician, activist, and the founder and director of Operation Black Vote and Trustee of the charity Police Now.
Created in 2010, the African Achievers Awards has become one of the most reputable awarding bodies on the African continent and one of the biggest annual gatherings of influential African achievers globally.