Prince Harry's hacking trial against the publisher of the Daily Mirror, Sunday Mirror and Sunday People began on Wednesday with an apology to him from the publisher over one instance of unlawful information gathering.
The trial, expected to last for six to seven weeks, will build up to an appearance from the Duke of Sussex himself giving evidence as a witness, likely to be in early June. Harry did not appear for the first week of the trial, having made a flying visit to the UK for his father's coronation just days previously.
Other figures bringing claims being heard in the same trial are: Coronation Street actors Nikki Sanderson and Michael Turner (known professionally as Michael Le Vell) and comedian Paul Whitehouse's ex-wife Fiona Wightman.
The publisher denies voicemail interception in all the cases.
The case is the first of three unlawful information-gathering lawsuits being brought by Harry to go to trial. At preliminary stages are his case, alongside other public figures including Sir Elton John and Baroness Doreen Lawrence, against the publisher of the Mail titles, and another action, alongside actor Hugh Grant, against Sun and News of the World publisher News UK.
The trial is only the second civil phone hacking case involving journalists that has ever gone to full trial. The first was in 2015, when the publisher of the Mirror titles was ordered to make the biggest ever privacy payout by a judge at £1.2m, to a group of public figures including footballer Paul Gascoigne, BBC executive Alan Yentob, and actors Sadie Frost and Shane Richie.
The first three days of the trial included opening statements from each side, details about the 33 articles over which Harry was allowed to bring his claim, and an apology from Mirror Group Newspapers.
Day one: Wednesday 10 May
Publisher 'unreservedly apologises'
At the start of the trial Andrew Green KC, for MGN, said the publisher "unreservedly apologises" to Harry for one instance of unlawful information gathering and that it accepts he was entitled to "appropriate compensation".
The barrister said that it was admitted that a private investigator was instructed, by an MGN journalist at The People (now The Sunday People), to unlawfully gather information about his activities at the Chinawhite nightclub one night in February 2004 – an occasion for which there was a reference to a payment record for £75.
He said: "It is admitted that this represented an instruction to engage in unlawful information gathering, and MGN unreservedly apologises and accepts that the Duke of Sussex is entitled to appropriate compensation for it.
"MGN does not know what information this related to, although it clearly had some connection with his conduct at the nightclub."
The barrister said that there was a People article published in February 2004 "giving the recollection of a woman Harry spent time with" at the club.
Green added: "The Duke of Sussex notably does not claim in relation to this article, so it is not alleged that this instruction led to the publication of his private information.
"The fee paid, £75, suggests little work was involved."
Green also said: "Otherwise, the specified allegations are denied, or in a few cases not admitted."
Of the other claimants, Green continued: "There is some evidence of the instruction of third parties to engage in other types of unlawful information gathering in respect of each of the claimants, save for Mr Turner whose claim is entirely denied, and MGN has made pleaded admissions in respect thereof.
"MGN unreservedly apologises for all such instances of unlawful information gathering, and assures the claimants that such conduct will never be repeated."
An MGN spokesperson also addressed the apology outside the courtroom, saying: "Where historical wrongdoing has taken place we have made admissions, take full responsibility and apologise unreservedly, but we will vigorously defend against allegations of wrongdoing where our journalists acted lawfully.
"MGN is now part of a very different company.
"We are committed to acting with integrity and our objective in this trial is to allow both the business and our journalists to move forward from events that took place many years ago."
Unlawful techniques 'habitual and widespread' and Piers Morgan denial
David Sherborne, who is representing all the claimants in the trial including Harry, alleged there had been unlawful information gathering at an "industrial scale carried out across three newspapers over a period of about 20 years or so".
Sherborne claimed journalists' use of unlawful information gathering techniques at the three Mirror-owned titles, with practices such as phone hacking, securing information through deception and hiring private investigators, was "habitual and widespread" and represented a "flood of illegality".
He also alleged the "systemic" use of private investigators to unlawfully obtain private information was authorised by senior editors including Piers Morgan, who edited the Mirror between 1995 and 2004.
He said in written arguments it was "inconceivable" that Morgan and other editors did not know about MGN journalists instructing private investigators to obtain information. "The systemic and widespread use of PIs by MGN journalists to unlawfully obtain private information was authorised at senior levels," Sherborne said, including desk heads, editors, managing editors and senior executives.
Morgan denied being involved in phone-hacking this week in an interview with the BBC's Amol Rajan, saying: "I think phone hacking is completely wrong and shouldn't have been happening and it was lazy journalists being lazy."
Morgan added: "There's no evidence I knew anything about any of this…I never told anybody to hack a phone and nobody on the Daily Mirror of the hundreds and hundreds, thousands, possibly of journalists who worked with me on the Daily Mirror have ever even been arrested in connection with phone hacking. So there are lots of civil things going on. But as you know, the bar for that is a lot lower than it is for any criminal action."
Morgan was also doorstepped by ITV News, who he told: "I'm not going to take lectures on privacy invasion from Prince Harry," citing the duke's recent disclosures via his book Spare and Netflix documentary.
Sherborne told the court Harry's case covered the period from 1995 to 2011 and is "significant not just in terms of the span but also the range of activities".
He said that in 1995 "the royal family had become big news for the tabloid newspapers" with interest continuing throughout the now-King Charles' divorce from his then-wife Diana, Princess of Wales, and her "untimely death" in 1997.
Sherborne said: "We all remember the images of him walking behind his mother's coffin.
"From that moment on, as a schoolboy and from his career in the army and as a young adult he was subjected, it was clear, to the most intrusive methods of obtaining his personal information."
The alleged hacking was also said to have affected Harry's relationship with former girlfriend Chelsea Davy, who ultimately decided royal life was "not for her" due to press intrusion, according to Sherborne.
"Every time he was in a relationship, or even a rumoured relationship, that whole person's family, and often their friends, would be 'dragged into the chaos' and find themselves the subject of unlawful activity on the part of MGN," the lawyer said.
"There was nowhere that was 'off limits' for MGN's newspapers, whose journalists would even manage to book into a hotel in Bazaruto, a small island off the coast of Mozambique, when the Duke of Sussex and Ms Davy tried to escape there and enjoy some peace and quiet."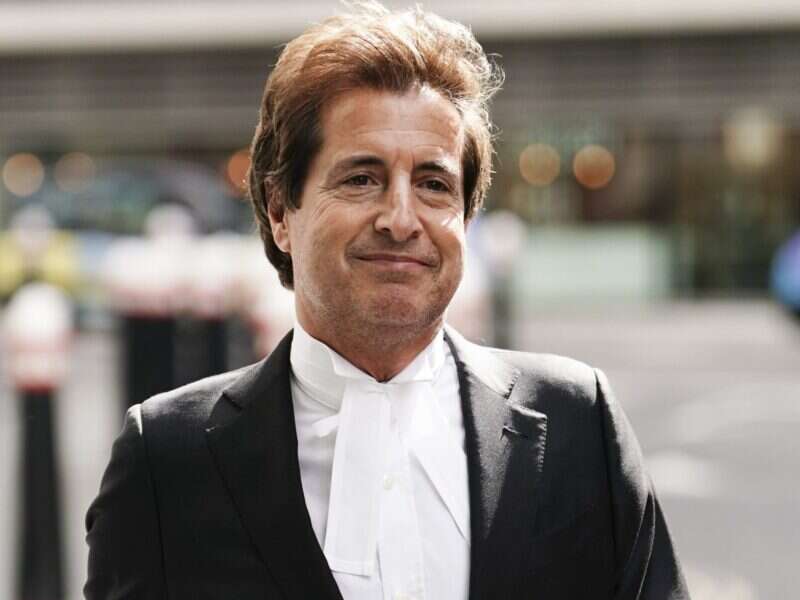 Other claimants
Ex-Coronation Street actress Nikki Sanderson felt like she was "public property" and experienced abuse in the street following "false insinuations" in articles published by MGN, according to court documents.
Sherborne said Sanderson said it was "'scary' feeling like she was always being watched, and 'upsetting' that MGN's conduct caused the lines between her public and private life to blur, making her believe that she was 'public property'".
"The impact of the stories on Nikki Sanderson was aggravated by their false insinuations that she was promiscuous, causing her great upset and giving rise to her being subjected to mental and physical abuse, having people shout at her in the street calling her a 'whore', 'slag' or 'slut' and even being physically assaulted on numerous occasions."
The publisher says Sanderson's claim has been brought too late, but "unreservedly apologises" over four payments made to private investigators which it admits are evidence of instructions to unlawfully obtain her private information. It also claims that evidence does not suggest Sanderson's phone was successfully hacked.
Coronation Street actor Michael Turner was accused by fellow cast members of being "a mole" because of alleged hacking, it was also revealed.
The actor claims it is "likely" voicemail messages he left on an associate's phone were "unlawfully accessed and listened to by MGN journalists". MGN denies his claims, arguing there is no evidence of voicemail interception or unlawful information gathering relating to him.
Prince Harry versus Mirror Group hacking trial day two: Thursday 11 May
The duke's case is that 148 articles published between 1996 and 2010 by MGN titles included information that was allegedly obtained through unlawful means, including phone hacking.
The judge Mr Justice Fancourt previously ruled that 33 of the articles should be considered at the trial and details of the articles were revealed on Thursday.
The subjects of the articles in the case include Harry's relationship with his family and ex-girlfriend Chelsy Davy, a few injuries and illnesses, his military service and allegations of drug use.
MGN repeatedly denied that details contained in various articles published during Harry's life was private information belonging to the duke.
It defended some of its reporting by alleging a "public interest" in stories or claimed published information was "trivial" in nature.
'No expectation of privacy' over Nazi uniform aftermath
In the document put into the case by the publisher's lawyers, the court heard that one of the articles in Harry's claim, published in the Sunday Mirror in February 2005, said that the duke had been made to do farm work by Charles – the then-Prince of Wales – after wearing a Nazi uniform at a party.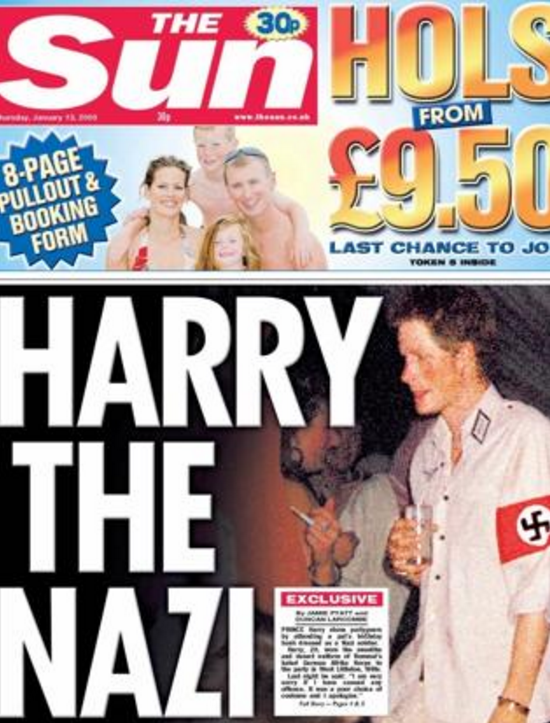 Andrew Green KC, for MGN, denied the details in the article had been sourced unlawfully or through phone hacking.
He said: "The information complained of came from prior reports in the public domain. The other information in the article came from a confidential source."
The publisher also denied that Harry had any expectation of privacy over the story.
The barrister continued: "That the claimant, as a high-profile member of the royal family, had carried out some work on a farm was not information in respect of which he had a reasonable expectation of privacy, particularly if it was in response to his wearing of a Nazi uniform.
"Alternatively, any minimal privacy interest was outweighed by the public interest in this information about his work and the royal family's response to his wearing a Nazi uniform."
Another article in the duke's claim was published in the Sunday Mirror in January 2002 under the headline "Harry took drugs" which alleged the duke had smoked cannabis.
MGN said the information came from a set of articles published in the now-defunct News Of The World, which were widely followed up.
Green continued: "The palace had confirmed the story to the News Of The World, after the Prince of Wales decided to co-operate with the title."
The barrister said that quotes from royal sources and family friends "were, it is to be inferred, authorised by the palace … in an effort to manage the story".
He added: "A senior member of the royal family does not have a reasonable expectation of privacy in taking illegal drugs, particularly when he did so at a public house in combination with illegally drinking alcohol underage."
Other articles at the centre of Harry's claim include:
– A September 1996 Daily Mirror story with the headline "Diana so sad on Harry's big day" which the publisher said came from "prior reports" in the public domain.
– A Daily Mirror story from November 2000 about Harry breaking his thumb, which MGN said "came from extensive prior reports in the public domain and had been disclosed to the press by the palace".
– A Sunday Mirror article entitled "Rugger Off Harry", published in November 2001 about an injury he had is also in the duke's claim and is attributed to a "confidential Eton source" and not illegal methods by MGN.
– A March 2002 piece in the Daily Mirror about Harry's diagnosis with glandular fever, which MGN said it was "likely that information was discreetly released by the palace" in advance of a family trip to Switzerland.
Day three: Friday 12 May
Opening the publisher's case on Friday, Andrew Green KC, for MGN, said some of the allegations were made with "no basis".
"Many of the allegations highlighted were made with a sense of outrage," he continued.
In written submissions, Green said there was "some evidence" of third parties being instructed to carry out other forms of unlawful information gathering, except in the case of actor Michael Turner.
He told the court: "Where that is so, MGN has made admissions… but for many of them, there is simply no evidence they engaged in unlawful information gathering at all."
The barrister said third parties – including private investigators and freelance journalists – with "expertise" in using the electoral roll, registers of births, deaths and marriages, and Companies House were used for "plainly not unlawful" activities.
Green later said: "There was absolutely nothing unlawful about searches for publicly accessible material."
Of the hacking trial against the Mirror in 2015 that resulted in a £1.2m damages order, Green said: "There is absolutely no doubt that… there was reprehensible conduct on the scale set out in the judgment."
Green said that ruling, which is fully accepted by the publisher, makes "painful reading, they did then and they do now".
The barrister said that MGN has "paid out over £100m in damages and costs" in claims for unlawful information gathering.
However, he said the four claims in this trial are "a very long way" from the eight cases in the previous trial in terms of evidence.
Green added that a "very substantial proportion" of the articles in the current case were at "a breathtaking level of triviality".
He said the stories came from a range of sources, including information disclosed by royal households or other royals, freelance journalists and news agencies as well as confidential sources with "extensive" royal contacts.
Discussing one Daily Mirror article, which discussed plans for Harry's 18th birthday in 2002 and that he was given golf clubs by his uncle, MGN said the information came from an on-the-record interview given to the PA news agency, then known as the Press Association.
The barrister said: "The interview was arranged by the claimant's PR advisers, and presumably the Prince of Wales' PR advisers, to mark his 18th birthday and was part of a PR exercise not least to rehabilitate his image after his earlier involvement with drug taking."
Green later said that the information for a 2009 article in the Daily Mirror about the duke's alleged relationship also came from PA and prior reports in the public domain.
The trial continues.
The post Prince Harry vs Mirror hacking trial week one: Publisher apology and Piers Morgan denial appeared first on Press Gazette.