ChatGPT and other generative AI tools should not send publishers into "panic mode", digital bosses at Conde Nast and William Reed have said.
Instead, they suggested AI can most usefully be implemented as productivity tools – for example, to improve headlines, for search engine optimisation, to generate ideas around an SEO theme and to better understand the likely intent of users.
John Barnes, chief digital officer at The Grocer and The Morning Advertiser publisher William Reed, told the PPA Festival in London that "the human and the AI working together is getting a better result, I think".
Barnes revealed William Reed has a "Waddlein" team – named because people can 'waddle in' to the discussions – currently running several experiments in AI.
"The one that seems to be playing the most with journalists in the organisation is drop your own body copy into ChatGPT, so we're sort of feeding it with our own content, then we're asking it questions about how do you summarise this? What questions does this article raise? But more importantly 'write me a 14-word search engine optimised headline'.
"And very often when you compare it to the journalists' headlines, it's not bad… it's coming out with something that's making everyone think and the human and the AI working together is getting a better result, I think."
He also suggested journalists could ask ChatGPT the "kinds of questions that journalists love to think about that you don't generally incorporate into an article in that kind of practical way" – for example: "How would you summarise the article? What would be the one thing that you'd take away from the article?"
Barnes said of the new technology: "We're not overly scared of it, but we're kind of scratching our heads like everybody else to figure out where it will go."
On the same panel, Sarah Marshall, global executive director for distribution and channel strategy at Conde Nast, advocated using generative text AI tools such as ChatGPT, image generators Midjourney or DALL-E, video generators Synthesia or Runway, or text-to-speech tool Eleven Labs even though she is not a proponent of using it directly for publication.
In March Conde Nast tech and culture magazine brand Wired was one of the first to publish its ground rules for using AI content, which included the decision not to use any stories or images generated by the tech. Marshall said, "the industry is based on photographers and image creators and we want to support them and also we want to be very transparent".
She said the tech is not likely to be a "revolution for journalism" because journalists still need to produce "shoe-leather journalism" and speak to sources themselves.
Marshall instead backed generative AI as a productivity tool, noting Conde Nast's global technical SEO director Max Prin has told her it saves him hours each week by cleaning up code or using the Google Trends API to feed into the publisher's own internal tools. Other productivity timesavers, she added, could include creating images on Midjourney for internal purposes such as presentations, using Synthesia to create an AI person presenting staff training or turning stories into audio using Eleven Labs.
"Don't necessarily think about it as it's going to take your writing job, but think about the tools related," she said.
For journalists, she gave the example of someone at Vogue asking ChatGPT for ideas for articles based on spring trends and an indication of the intent of the users, especially in cases where an article could contain affiliate links.
"So it might give you 'you can do spring trends for decor and the intent of the user will be people wanting home inspiration, spring trends about colour or spring trends about fashion'," Marshall said.
She noted that all the generative AI tools are currently "very accessible" – ChatGPT, for example, costs $20 per month while Midjourney is $10 per month.
Although news brands like The New Yorker are "never going to be writing stories based on AI", Marshall said, "thinking about ideas and productivity it is a hockey stick moment for me", noting ChatGPT was estimated to have reached 100 million monthly active users in January just two months after launch.
Mel McVeigh, Conde Nast's VP for product, global brands and commerce, gave a separate presentation to the conference in which she used Midjourney-generated images for each slide and shared a similar sentiment about the potential uses for generative AI, saying its best use is on the product side as it still needs to be "curated, understood and translated by humans".
"Originality is going to become more and more important as we go through into the future," she said.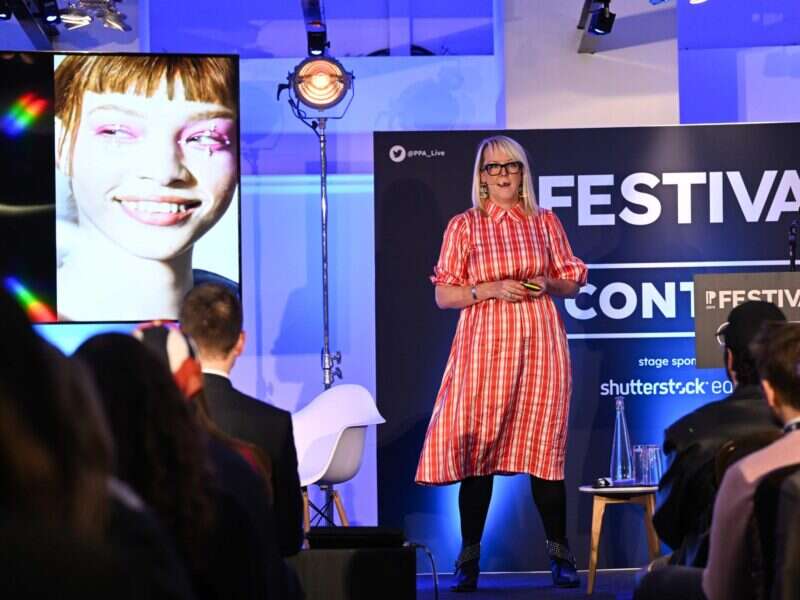 She added that she wants editors to work in a "more productive way" and "create more meaningful content" but "I don't want the AI to take over. I don't want it to produce content."
The question faced by the market, she said, is whether we can be "anaesthetised against the fact it's mediocre – and the publisher's role is actually to counter against that – find new ways to share with our audiences, but also to create original content".
Asked what scared her the most about AI, she said: "Actually, a lot of it scares me. I did go on that path of 'all creators are going to be gone away' but I've worked in publishing for a really long time and they thought the book was going to be gone, digital was going to replace the book, it has in many contexts… I worked at Lonely Planet, guidebooks are no longer used.
"However, the content is – you still want to know that place to go in Malaga. So the consumer question has never changed, it's just the way that we deliver it.
"I'm scared because I just don't think we have enough boundaries implemented yet."
The post Publishers using ChatGPT to improve headlines and suggest feature ideas appeared first on Press Gazette.