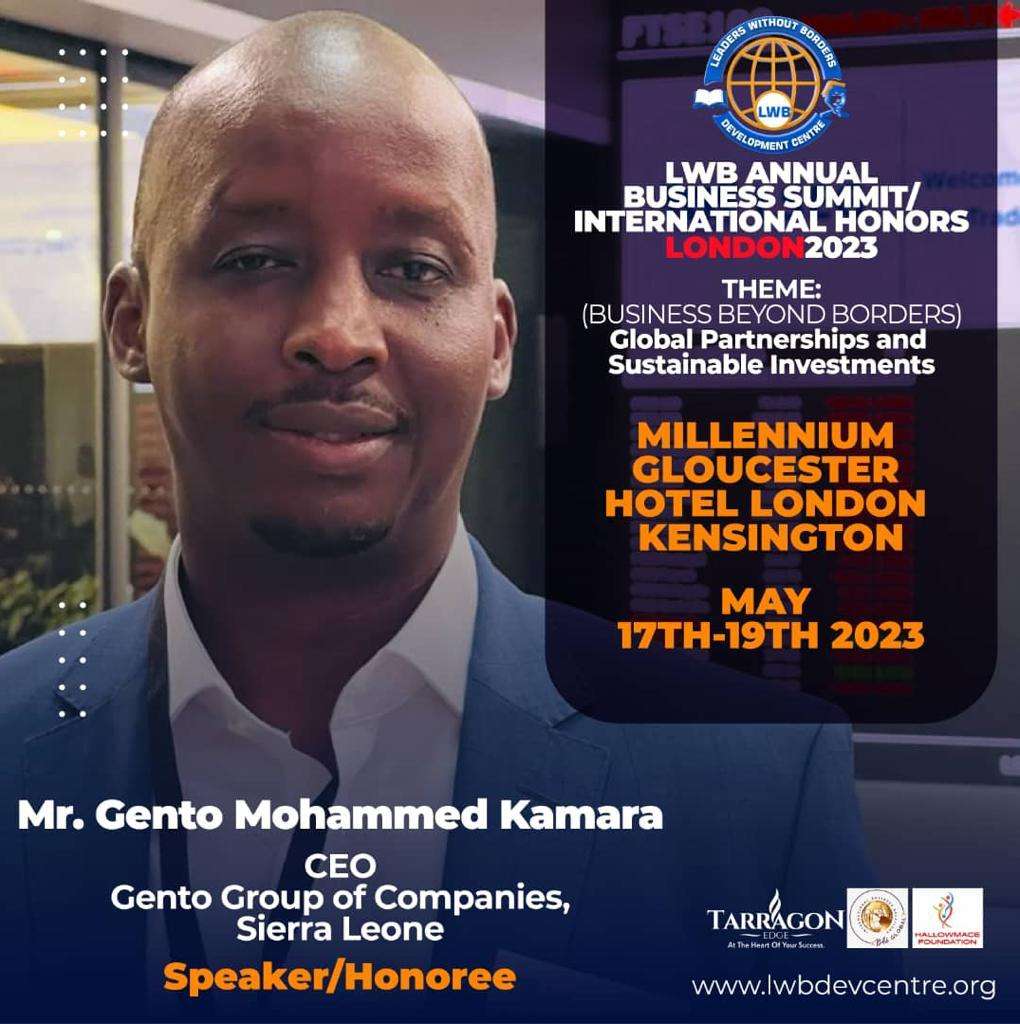 Business Tycoon and Philanthropist, Mohamed Gento Kamara, has been nominated for the Leaders Without Borders (LWB) Global Honors under the category: Award for Global Excellence -Enterprise and Global Corporate Governance.
Contained in an invitation extended to Mr. Gento, the Governing Council of the LWB Development Centre, noted that its research shows that Mr. Gento has demonstrated leadership qualities and comes highly recommend for the award.
"Your revolutionary step towards re-branding leadership, philanthropy and community development is highly commendable," the invitation document, signed by Principal Partner & Founder,
LWB Development Centre, UK, Amb. Dr. Hillary Emoh and the LWB Centre's Director of International Affairs and
Business Diplomacy, Fayad K. Fayad, read.
This comes barely 2 months after Mr. Gento was honored at the House of Lords, UK by the Wintrade Global Summit for "Excellence in Economics".
The 2023 edition of the LWB Business Summit And Global Honors, England, is themed: "Business Beyond Borders – Global Partnerships and Sustainable Investments".
The award ceremony is scheduled to hold at the Millennium Gloucester Hotel, London, UK on the second day during the three (3) days LWB Annual Business Summit & Global Honors scheduled for 17th – 19th May, 2023.
The LWB Global Honors Nominees are those that the body has found to have demonstrated sheer resilience and focus in their contribution to their immediate environment. Such individual/organization would have demonstrated a very high level of leadership quality and development strides.
This years Annual Business Summit is one of such event offering Heads of organizations (Private or Government) and business executives in various industries access to high-return investment opportunities, Global brand positioning, exposure, and unraveled networking opportunities during the convening of a world class rated platform for Strategic Business Partnerships between Countries on both sides of the Investment Business Performance Equation.
A segment of the Investment Summit is the Deal Room Private Meetings where the LWB offers global networking opportunities for Cross-Country Collaborations and Partnerships for Countries, CEO's and Global Leaders the opportunity to connect with real-time investors and the desired investment they sort.
According to the LWB Development Centre, a major thread of the debates is about partnerships, investment, disruption and strategies on the cusp of transformation in a selected number of sectors, including Trade and Investment opportunities, FinTech, PropTech, InfoTech, Financial Sector, Infrastructures, Agribusiness, Mining and Renewable's.