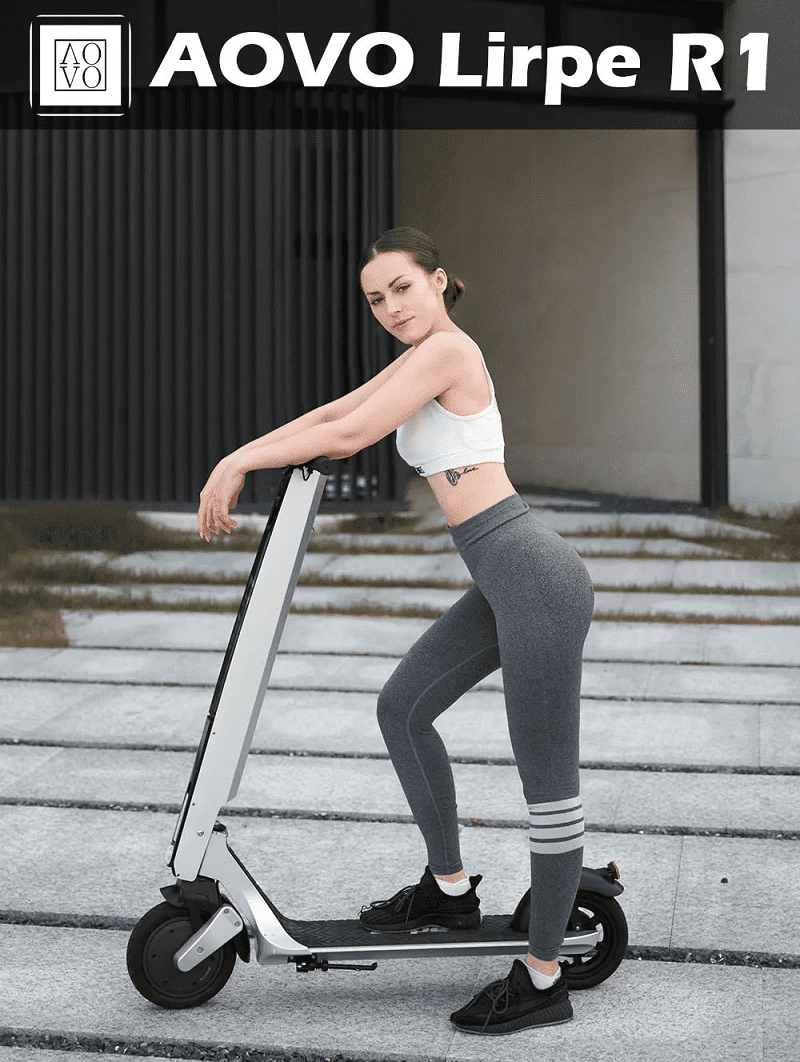 In recent years, due to the impact of the epidemic, many people no longer like to use public transportation tools such as taking the bus or subway, but prefer convenient transportation tools such as electric motorcycles, electric bicycles, and electric scooters. You may saw many people riding electric scooters to go to work or school, of course, including me, lol. This spring, the beautiful scenery and cool weather make people favor outings. We may one day get used to riding electric scooters to work or school, but more interestingly, we may prefer to use scooters for camping. Camping with an electric scooter? Does hearing wrong? No! you heard that right, exactly! let's have a look the video below:
AOVO Technology recently developed an AOVO electric scooter that not only allows you to ride it to go to work or school, but also uses its removable battery as a solar energy storage for camping! Below I explain its function and usage in detail:
The AOVO Lirpe R1 electric scooter, It is the first solar electric scooter in the industry. The solar panels can work in any weather, including cloudy day,  at the full charging circumstance, the electric scooter charged by solar panel AOVO lirpe S100 on a sunny day in Europe, it can reach up to 30km mileage, and it just need 6 hours. The really clever bit, however, is that there's no need to panic about finding a charging point when you need that extra range. The battery is small and lightweight, and can be removed from the electric scooter and charged directly from a common household power outlet, or charge it throught AOVO lirpe S100 solar panel bag, There are iconic matrix battery cells on the battery. The battery is designed to be easily disassembled and is particularly lightweight, so it makes super long last become possible.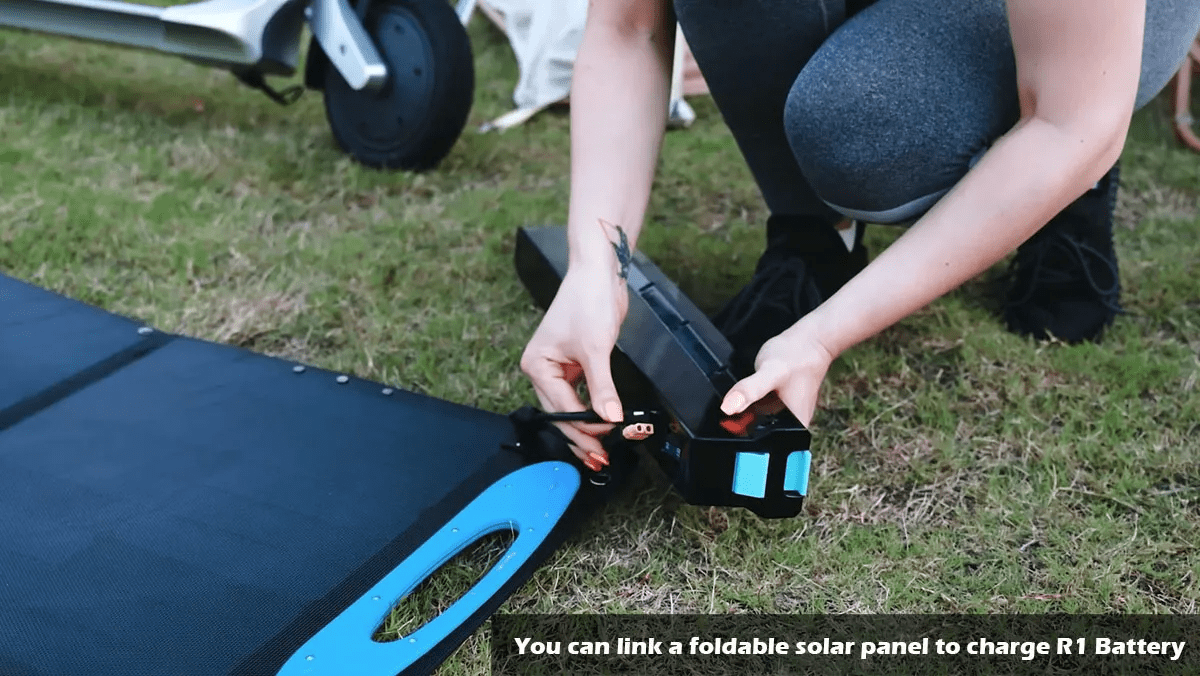 AOVO lirpe R1 Batteries can be solar generator, the battery of AOVO Lirpe R1 is very special, it can also be used as a removable solar power station. A single battery can be used as a solar generator that can power smartphones, laptops, tablets, camping lights, and more.
The AOVO Lirpe R1 has a cruising range of up to 30km, which is enough for you to ride from the center of London to the suburbs. The speed is 32km/h. It takes about 6 hours to charge the battery from zero to full. The scooter is rated IPX5, which means it can withstand constant water splashes. you are able to ride it in the rain and in puddles with no problem.
The silver and black design makes the electric scooter look advanced. The tilted LED lights give us a wide view at night.
The body is different from the conventional cylindrical shape, it is a similar rectangular design, which makes AOVO Lirpe R1 more stable, and the double-lock folding mechanism is used at the folding place to ensure the smooth folding of the electric scooter.
The AOVO Lirpe R1 weighs only 33 lbs, which makes it easy to carry. But thanks to the alloy rims and aluminum body, the scooter feels decidedly sturdier than smaller scooters. you can still lift it easily and carry it up the stairs.
Normally, you only need one battery to get you riding long distances for camping, but if you need to charge, you need a converter base, just put the solar battery on the converter, you You can use this AOVO lirpe R1 battery to power your computer or mobile phone, which is very convenient. In addition, we have designed a waterproof protection function on the battery to avoid short circuit due to rain.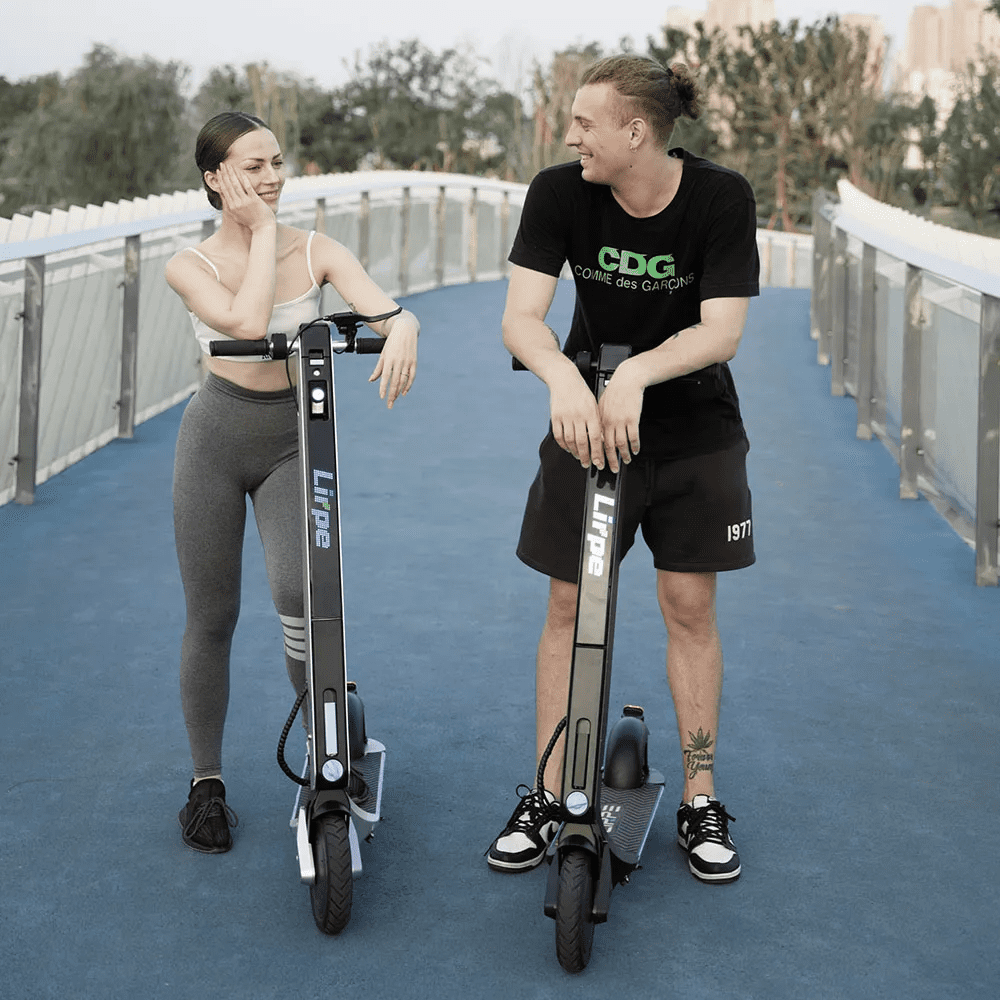 AOVO lirpe R1 has two version, Silver one is AOVO lirpe R1, Black one is AOVO lirpe R1 promax,  both of them can be charged by AOVO lirpe S100 foldable solar panel bag
AOVO lirpe R1 parameters: 
Model R1 Basic
Wheel Size: 8.5Inch
Power: 350W
Votage: 36V
Battery Capacity: 7.8Ah(280Wh)
Charger specifications: 42V 1.5A
Charging Time: 5-6h
Mileage: 30km
AOVO lirpe R1promax parameters: 
Model: R1 Promax
Wheel Size: 10 Inch
Power: 500W
Votage: 36V
Battery Capacity: 10.4Ah (374Wh)
Charger specifications: 42V 2A
Charging Time 5-6h
Mileage: 40km
In conclusion, the AOVO lirpe R1 is AOVO technology newest innovation design product, AOVO is committed to make a more environmental friendly, convenient, green world. To reach the point, AOVO technology makes efforts all the time, AOVO, New energy, New lifestyle.
For more questions about AOVO lirpe R1, please refer to the official website of AOVO electric scooter: www.aovostore.com