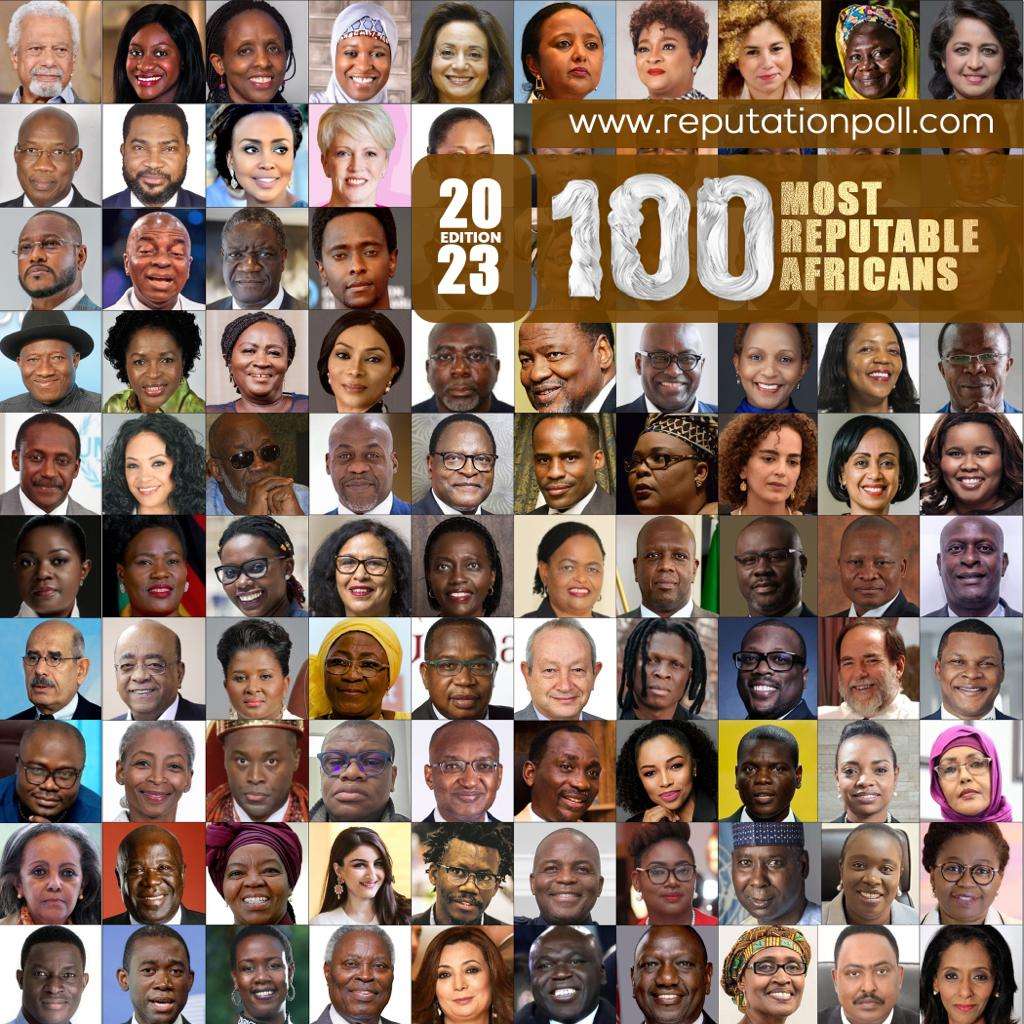 Reputation Poll International (RPI), a leading global reputation firm, has released the 2023 list of 100 Most Reputable Africans. The list features individuals from diverse sectors including; Governance/Leadership, Entertainment, Human rights/Advocacy, Education, and Business. The selection criteria are Integrity, Visibility, and Impact.
Very prominent personalities featured on the list include Kenya's Amina Chawahir Mohamed, South Africa's Bonang Mohale, Chancellor at the University of the Free State and Professor at Johannesburg Business School; and Cameroon's Njoya Tiku, Manager of the UNDP Regional Office in West and Central Africa.
On Governance and Policy: Kenya's President H.E. Wiliam K. Ruto, H.E. Lazarus Chakwera President of Malawi and Ivory Coast Senator Chantal Moussokoura Fanny etc.
On Business: Egypt's Naguib Onsi Sawiris chairman of Weather Investments's parent company, Ghana's Sir Samuel Esson Jonah chancellor of the University of Cape Coast, and executive chairman of Jonah Capital, South Africa's Carol Bouwer, Nigeria's Dr. Dauda Lawal Executive Vice Chairman and CEO of Credent Capital and Advisory.
Human Rights Advocacy: Martha K. Koome, Chief Justice of Kenya, and Nigeria's Aisha Yesufu are featured.
On Leadership: Ethiopia's President Sahle Work-Zedwe, Nigeria's Dr. Paul Enenche MD, and Ghana's Afua Kyei (the Chief Financial Officer at Bank of England, where she leads the Finance Directorate) are featured.
In addition to the individuals recognized on Reputation Poll International's "100 Most Reputable Africans" list for their various achievements, there are also those who are celebrated for their contributions to social impact and social entrepreneurship, helping to transform businesses in Africa and positively impacting lives without causing controversy. During the announcement of the list, Ms. Beldina Auma, the Co-Chairperson of the Review and Audit Committee, as well as the Chair Emeritus of the World Bank Group-IMF African Society, President of SCIP-International, said the organisation is dedicated to recognizing people, groups, and businesses who continually improve lives in Africa and around the world.
Below is the list of the 100 Most Reputable people in Africa.
Abdulrazak Gurnah FRSL || British Author and Professor
Afua Kyei || Chief Financial Officer at Bank of England
Agnes Matilda Kalibab || President of Alliance for a Green Revolution in Africa (AGRA)
Aisha Yesufu || Human Rights Advocate
Amani Abou-Zeid (H.E) || Commissioner for Infrastructure and Energy, African Union Commission
Amina Chawahir Mohamed Jibril || Deputy Executive Director, UNEP
Arunma Oteh || Economist and Financial Manager
Basita Michael (Esq) || President of the Sierra Leone Bar Association
Bibata Ganemtore Nabaloum || Head of Association for Promotion of Women and Children (APEE)
Bibi Ameenah Firdaus Gurib || Fellow of the African Academy Of Sciences
Birama Sidibé || Former Vice President Of the Islamic Bank of Development
Akinremi Bolaji (Amb.) || Director, Legal and Consular, Ministry of Foreign Affairs
Carol Bouwer || CEO, Carol Bouwer Productions
Carolyn Steyn || Founder, 67 Blankets for Nelson Mandela Day
Chantal Moussokoura Fanny (Sen.) || Senator for Folon District
Clare Akamanzi || CEO, Rwanda Development Board (RDB)
Conrad Mbewe (Pastor) || Author and Pastor at Kabwata Baptist Church
Cosmas Maduka || Founder and Chairman of the Coscharis Group
Coumba D. Sow || Representative at UN Food and Agriculture Organization
Dag Heward-Mills (Bishop) || Founder and Bishop of the Lighthouse Chapel International
Danai Jekesai Guirra ||Actress
Dauda Lawal (Dr.) || Executive Vice Chairman and CEO of Credent Capital and Advisory
David Olaniyi Oyedepo (Bishop) || Founder and General Overseer at Living Faith Church Worldwide (LFCW)
Denis Mukwege || Founder and Head of the Panzi Hospital
Edi Mūe Gathegi || Actor
Edward Kobina Enninful OBE || Editor in Chief, British Vogue
Ellen Johnson Sirleaf (H.E) || Former President of Liberia
Enoch Adeboye (Pastor) || General Overseer, Redeemed Christian Church of God (RCCG)
Eric Yirenkyi Danquah || Founding Director, The West Africa Centre for crop Improvement (WACCI)
Fatoumatta Njai || Representative of ECOWAS
Fitsum Assefa Adela || Leader, FDRE Minister of Planning and Development
Goodluck Ebele Azikwe Jonathan (H.E GCFR, GCON) || Former President of Nigeria
Helena Ndume (Dr.) || Head of Opthalmology, Windheok Central Hospital
Jane Naana Opoku-Agyemang || Chancellor of the Women's University in Africa
Dr. Jennifer Douglas || Gede Foundation
Jonathan Fonati Koffa || Deputy Speaker Liberia
Joaquim Alberto Chissano || Former President of Mozambique
Joseph-Achille Mbembe || Author, Philosopher, and Lecturer
Joyce Msuya || Assistant Secretary-General for Humanitarian Affairs and Deputy Emergency Relief Coordinator at the UN
Judy Dlamini || Chancellor at the University of Witwatersand
Kandeh Kolleh Yumkella (Alhaji, Dr.) || Former Director-General of UNIDO
Kanya King, CBE || CEO, Music of Black Origin (MOBO) Awards
Ken Kwaku || Honorary Consular of Ghana to Tanzania
Kofi Tutu Agyare || Managing Partner at Nubuke Investments
Lazarus Chakwera (H.E) || President of Malawi
Leruo Tshekedi Molotlegi || 36th Kgosi (king) of the royal Bafokeng Nation
Leymah Gbowee || Peace Activist
Leïla Slimani || Author and Journalist
Lia Tadesse || Minister of Health in Ethiopia
Lindiwe Mazibuko || Executive Director of Apolitical Academy
Lucy Quist || MD of Morgan Stanley
Lydia Heather Mudhari || Honorary Consul for Zimbabwe in Scotland
Marieme Jamme || Philanthropist and Businesswoman
Maritza Peña Rosabal || Former Minister of Education in Cape Verde
Martha Karau (Hon.) || Leader of the NARC Kenya political party
Martha K. Koome (Hon. Chief Justice EGH) ||Chief Justice of Kenya
Martin Kimani || Kenyan Diplomat
Mike Jocktan || Founder of Ministries Christ Revealed to Nations and Renovons Port-Gentil
Mogoeng Thomas Reetsang Mogoeng || Former Chief Justice of South Africa
Mohamed Moustapha Malick Fall || Regional Director at UNICEF for Eastern and Southern Africa
Mohamed Mustafa ElBaradei || Egyptian Lawyer and Diplomat
Mohammed "Mo" Ibrahim || Founder and Chairman of the Mo Ibrahim Foundation
Monica Geingos || First Lady of Namibia
Monique Ilboudo || Author and Human Rights Advocate
Mthuli Ncube || Former Finance Minister of Zimbabwe
Naguib Onsi Sawiris || CEO of Orascom Telecom Holding
Nelson Makamo || Visual Artist
N'Gunu Tiny || Founder and CEO, The Emerald Group
Nicholas F. Oppenheimer || Businessman
Nj Ajuk || Author, Founder, and CEO of Centurion Law Group
Njoya Tiku || Manager of the UNDP Regional Office in West and Central Africa
Nonkululeko Nyembezi-Heita || CEO of Dutch Mining Group
Ogiame Atuwatse III || 21st Olu of Warri
Olaniyi Olatunji Nelson || International Development Professional
Patrick Ngugi Njoroge || Governor of the Central Bank of Kenya
Paul Enenche (Dr., Pastor) || Founder and General Overseer, The Dunamis International Gospel Centre
Phuthi Mahanyelle || CEO of Naspers
Ronald Ozzy Lamola || Minister of Justice and Correctional Services in South Africa
Rosalia Martins-Hausiku || CEO Motor Vehicle Accident (MVA) Fund of Namibia
Sadia Haji Samatar || Lead of the Parliament in Somalia
Sahle-Work Zewde || President of Ethiopia
Samuel Esson Jonah || Chancellor of the University of Cape Coast in Ghana
Sheila Dinotshe Tlou || Nurse and Nursing Educator
Soha Ali || Senior Counrty Representative of J.P Morgan Chase Bank for the Egypt Office
Tembeka Nicholas Ngcukaitobi || Author, Lawyer, and Political Activist
Thebe Ikalafeng || Founder and CEO of Brand Leadership Group
Theresa Ayaode || Executive Director of Multiple Concepts Groups
Tijjani Muhammad-Bande || The Permanent Representative of Nigeria to the United Nations
Tuma Adama Gento- Kamara || Chairperson of the National Revenue Authority (NRA)
Victoire Sidémého Dzidudu Dogbé Tomegah || Prime Minister of Togo
Victor Ochen || Founder and Executive Director of African Youth Initiative Network (AYINET)
Wally Adeyemo || Deputy Secretary of the United States Department of the Treasury
Wanjiru Kamau-Rutenberg || Executive Director at Rise, a project by Schmidt
WF Kumuyi (Pastor) || General Overseer of the Deeper Christian Life Ministry (DCLM)
Wided Bouchamaoui || Leader of the Tunisian Confederation of Industry, Trade, and Handicrafts
Wilfried Mbappé || Football Coach and Agent
William K. Ruto || President of Kenya
Winnie Byanyima || Under-Secretary-General of the UN and Executive Director of UNAIDS
Workneh Gebeyehu Negewo || Minister of Foreign Affairs in Ethiopia
Zeinab Badawi || British Journalist and Television Presenter